solutions
cloud computing
When cloud computing comes to mind, there is always the idea of some cloud hanging over us with a lot of items ready to shower upon us and make life more confusing, right? Actually, cloud computing is the delivery of computing services including servers, storage, databases, networking, software, analytics, and intelligence over the internet ("the cloud") to offer faster innovation, flexible resources, and economies of scale. So, going back to a cloud hanging over us is pretty accurate. There is this image of a cloud with all these types of services stored in it, ready to network anywhere via the internet and save your business money and make it more efficient than ever before. You will typically pay only for cloud services you use, helping to lower your operating costs, and run your infrastructure more efficiently, with the ability to scale as your business needs change.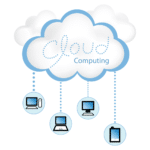 Top Benefits of Cloud Computing
Cost

Cloud computing eliminates the capital expense of buying hardware and software that you would usually buy to run your business. You rent 'On-demand' or SaaS on a subscription basis, rather than purchasing hardware and software outright. It also reduces the need for on-site data centers with racks of servers, storage, networking, the around the clock electricity usage, cost of power and cooling, and the cost of hiring IT experts to manage and maintain the infrastructure. It all adds up fast.


Speed

Most of the services provided by cloud computing are self service and 'On-demand', so vast amounts of computing resources can be provisioned in matter of minutes, typically with just a few mouse clicks, giving businesses much more flexibility and taking the burden of capacity planning off their shoulders. The speed of EC2 to S3 is constantly improving, traffic to and from Amazon Simple Storage Service (S3) can now take advantage of up to 25 Gbps of bandwidth.

Global Scale

The benefits of cloud computing services include the ability to scale elastically. In cloud talk, that typically means delivering the right amount of services of IT resources, for example, more or less computing power, storage, bandwidth right when they are needed, and from the right geographic location. This helps businesses to scale, boosting their infrastructure resources at a relatively low cost.


Productivity

The biggest cloud computing services are run on a worldwide network of secure data centers, which are regularly upgraded to the latest generation of fast and efficient hardware that grows with the business and its clients. This offers several benefits to corporations, including reduced downtime and improved network latency for applications, and greater economies of scale.

Reliability

Running cloud services in a business makes data backup, disaster recovery, and business continuity easier to manage and less expensive because data is mirrored offsite typically in a different geographic region to protect against major disasters.

Security

Many cloud providers offer a broad set of policies, technologies, and controls that strengthen your security posture overall, helping to protect your data and apps from potential threats and other disastrous events that may occur.

There are several models of cloud computing, this is generally described in one of two ways. Either based on the deployment model, or on the services your cloud provider is offering.  There are four types of cloud computing based on models, namely: private cloud, public cloud, hybrid cloud and community cloud.
public
private
hybrid
community cloud
Many types of cloud have evolved based on services.
Infrastructure-as-a-Service (IaaS)
Platform-as-a-Service abbreviated as PaaS
Software-as-a-Service also known as SaaS
Storage, Database, Information, Process, Application, Integration, Security, Management.
*WUC Technologies can help you determine the right type of cloud deployments and cloud computing architecture and services for your business needs.
Public Cloud

Public clouds are owned and operated by a third-party cloud provider, which delivers their computing resources, like servers and storage, over the internet. Amazon AWS and Microsoft Azure are examples of public cloud providers. With a public cloud, all hardware, software, and other supporting infrastructure is owned, maintain and managed by the cloud provider. You access these services and manage your account via the web.

Private Cloud

Private cloud refers to cloud computing resources used exclusively by a single business or organization. A private cloud can be physically located on the company's on-site data center. Sometimes companies will pay third party service providers to manage their private cloud. This private computing option gives businesses many of the benefits of a public cloud – including self-service, scalability, and elasticity.

Hybrid Cloud 

Hybrid clouds are the essence of all clouds which allow the computing services to flow between both the public and private clouds, giving your business a greater advantage and flexibility for more deployment options, and helps optimize your existing infrastructure, security, and compliance. Hybrid cloud combines a public cloud and a private cloud allowing data and apps to be shared between them.  Organizations gain the flexibility of keeping business-critical applications and data on-premises.
Solutions
Types of Cloud Services: IaaS, PaaS, Serverless, and SaaS
Most cloud computing services fall into four broad categories that will help your business grow within this service of the cloud: infrastructure as a service (IaaS), platform as a service (PaaS), serverless, and software as a service (SaaS). These are sometimes called the cloud computing stack as they are essential to know about and have. They often will build on top of one another. Knowing what they are and how they differ from one another makes it easier to accomplish your business goals.
Infrastructure as a Service (IaaS)

This is the most basic type of cloud service that you will find out there. With IaaS, you will rent IT infrastructure such as servers, virtual machines, storage, networks, load balancers and operating systems from a cloud provider on a pay as you go basis. Infrastructure as a Service or IaaS provides computing infrastructure like server, storage and networking on-demand.

Platform as a Service (PaaS)

This is a cloud computing service that supplies an on-demand environment for developing, testing, delivering, and managing software applications. PaaS is designed to make it easier for developers to quickly create web or mobile applications without having to worry about setting up the underlying operating system, programming environment and databases.

Serverless Computing

This overlaps with PaaS, focusing on building app functionality without spending time continually managing the servers and infrastructure required to do so.

Software as a Service (SaaS)

This service is a method for delivering software applications over the internet, on demand and typically on a subscription basis. Examples of SaaS include Salesforce, DocuSign and Dropbox.
Another crop of emerging cloud technologies and services relates to Artificial Intelligence (AI) and machine learning. These technologies build machine capable of learning, enabling systems to mimic human understanding and respond to changes in data to benefit businesses and organizations.
overview
Uses of Cloud Computing
At some point during the day, each one of us is using a cloud service that helps us in some sort of way. We just don't realize it.  If you use an online service to send email, edit documents, watch movies or TV, listen to music, play games, or store pictures and other files, it's likely that cloud computing is making it all possible behind the scenes. The first cloud computing services are barely a decade old, but already a variety of organizations—from tiny startups to global corporations, government agencies to non-profits—are embracing the technology for all sorts of reasons.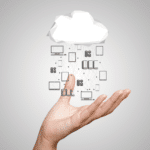 overview
Adopting the Cloud
So, you're ready to take on the cloud and make it part of your business, but you are not sure quite how to handle that? Well, here are a few tips to make a great deployment of the cloud services into your business.
Consider the entire cloud journey – make sure you are on board to follow the entire journey of the cloud deployment and that you will understand where each service will need to be implemented so that the business has what it needs and not some service that is not pertinent.
Plan your cloud adoption in stages – it will not be completed overnight, but will take some time, even years, to deploy your cloud services into your business fully with all your apps and systems that you will need and want, so plan the stages out carefully and follow them accordingly.
Understand your cloud business case – make sure you understand why you are adopting the cloud strategy and what it will do for you. Many businesses will adopt cloud strategy and not know why they did so. This hurts your planning and causes a lot of downtime.
Identify potential cloud adoption problems – there will definitely not be a 100%, right out of the gate deployment of the cloud into your business, but rather some hiccups in the road in doing so, and that is where you need to prepare and protect your data from being lost and make sure you know where the adoption problems will and might occur.
Evaluate your cloud adoption strategy over time – as your cloud services are implemented and adopted, look at how they are working and if they are meeting your business needs and fulfilling what your customers want and need. This is a crucial step in the adoption process of the cloud service as this will help you to determine if you need to go back anywhere and work on implementing anything else that might help the business.
Let us help you make that right decision and implement the Cloud Computing Services !!